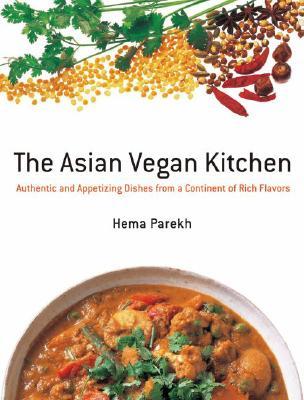 This collection of recipes from across Asia features the spices and the many tasty ingredients that have made these cuisines popular worldwide. It caters to the growing segment of people who eschew animal products, yet still want to add some global spice and excitement to their diet. Illustrated....
| | | |
| --- | --- | --- |
| Title | : | The Asian Vegan Kitchen: Authentic and Appetizing Dishes from a Continent of Rich Flavors |
| Author | : | |
| Rating | : | |
| ISBN | : | 9784770030696 |
| Format Type | : | Paperback |
| Number of Pages | : | 192 Pages |
| Status | : | Available For Download |
| Last checked | : | 21 Minutes ago! |
---
The Asian Vegan Kitchen: Authentic and Appetizing Dishes from a Continent of Rich Flavors Reviews
This book covers all of the major Asian cuisines. The author converts them into vegan versions of the original dishes. Great idea for a book ! Unfortunately the recipes are bland versions of the originals. I understand the need to appeal to all tastes but I was looking for a more authentic flavor. The recipes are clear easy to follow. I added more chilies and spices to get the flavor I was looking for. Each country had several common dishes to try and explore.

I love that the author grew up in a Jain family, Jainism being a religion that believes in non-violence, including adhering to strict vegetarianism.I loved how the contents include dishes from many Asian countries/areas: India, Japan, China, Thailand, Vietnam, Burma, Indonesia, Malaysia, and Korea. Each of those sections is divided up by types of dishes, slightly different for each type of cuisine, but including: Soups and Salads, Curries and Main Dishes, Rice Dishes, Side Dishes, Snacks, Breads, Drinks and Desserts, Main Dishes, Noodles, Pancakes and More, etc. The food photos, in color, are listed by country, and have their name and page number for reference. There is a glossary of ingredients and an index of main ingredients.There are short descriptive sections at the start of each country's section about their food and food traditions. Otherwise, the recipes are given in a straightforward way, though there is a bit of descriptive text at each.While I love the premise, and enjoyed noticing the differences among the various cuisines, many of the recipes have coconut and/or unusual (for my kitchen) ingredients. And, as a vegan, the easiest cuisine for dining out is Asian. Even where I live, where we have a variety of 100% vegan and 100% vegetarian restaurants, the majority are always Asian. I am often in the mood for Asian food, but not most typically.So, I highly recommend this book to reader cooks who want a single book that contains recipes from various Asian cultures. And while the instructions look easy enough and are acceptable for the average cook, a well stocked kitchen would be a help here.For me, I'm glad I borrowed it from the library, although I might borrow it again.3 ½ stars, rounded up for its breadth

I received this book as a Christmas gift. It seemed like a well thought out gift since I love Asian cuisine and I am a vegan. I was pretty excited about the book since it featured recipes outside of popular regions. Hema Parekh reaches out further than India, Japan, and China and puts recipes from Burma, Malaysia, Vietnam, and South Korea. Parekh writes about how she got married and moved out of India to Japan, where she learned to cook. The book is a mixed bag of emotions for me, as I feel like there could of been so much potential for it.PhotosAll the photos are clustered in the middle of the book. I hate this sort of set up, especially since the book is divided by country instead of food "types." The style of photography is very outdated, all the dishes have clay-red hue. I don't think there was a photo that I saw and thought- that's what I want to try and make. I wish there were more photos as most cookbooks featuring specific regions of cooking have recipes for dishes I've never heard of. So having a photo would help me visualize what the end result should look like. This particularly important for dishes where presentation is very important like dumplings and Japanese cuisine.Set-upI can't help but compare this book to Vegan Eats World by Terry Hope Romero. Terry features cuisine from a larger range of countries, and organizes all the recipes by styles, soups, salads, curries/stews, etc, etc. Parekh on the other hand groups all the recipes by nations, then divides them up by style. So there would be a chapter from India, then listed in that chapter would be soups, desserts, curries, rice, etc. In some ways it is an easier for planning dinners, in other ways it is hard to search around. Especially since many dishes overlap each other. Dumplings are eaten outside of China, so if I was planning a meal I could include them as a side for most dinners.The book has an introduction but only as a way for the author to say hello. She jumps into the recipes, which would be find if the purpose of the book was not to teach a new cuisine. It would of been nice to have an overview of the ingredients, subtle differences between noodles, and rice types over the countries. There is an ingredients reference at the end of the book, but I didn't find it till I got towards the end. If anything she could of put page numbers next to ingredients to help guide readers.The visual representations of the recipes is okay. Since the photos aren't set up next to the recipes it can be a little frustrating and demanding of the imagination of the reader. The text for the ingredients are small, making it harder to try and piece together the end result.WritingThere is a lot of confusion in the book, much of it is cultural. Parekh is writing as an Indian living in Japan, which makes the translated names of the dishes confusing. She lists the dish as an English translation, then puts the original name in small text next to it. For example samosas are listed as Crispy Pumpkin Turnovers (the recipe mentions how they normally made with potatoes, not pumpkin) This translation problem continues with ingredients and dishes as she mentions the japanese translation over the English. The most obvious example is that she gives a recipe for Chinese dumplings, but lists them as "gyoza." This isn't a problem if you know some Japanese cuisine, but most American's would recognize dumpling over gyoza.Aside from the cultural issues, I've spotted several spelling/typing errors. There are even issues with recipes, as she leaves out when to add ingredients to recipes. These are not issues that only happened once, but several times. Clearly this was a rushed publication.OverviewParekh's life story seems to shape the outcome of the book. There is a large bias for Indian and Japanese food. Those two chapters make up at least half of the recipes, pushing the other nations into weak collections. This bias extends to the ingredients, listing them under their Japanese names. For example many of the noodle listed for China are of Japanese styled noodles. Yes, there is style overlapping, and some differences. But the point is that if you are making a Chinese sesame noodle, it probably doesn't call for udon noodles.This naturally creates confusion for the book. This is a book written by a woman in Japan, for people who probably don't live in Asia. Some ingredients are going to be easy to find, some will not be. Because of this reason it would be extremely helpful to have a very detailed ingredients guide. Going into detail about common ingredients, and what would be good replacements. Some recipes already do this, some don't. It also worth mentioning that I live in a culturally diverse area, I live near a Korean, South East Asian, and Indian market. I am sure there are more ethnic markets, I just never found them yet. Some ingredients are hard to find, or are very seasonal.My other problem with the book is that is wavers back and forth from super authentic to completely not. I have no problem from straying away from tradition and giving a fun twist to a recipe. But in some ways it seems that Parekh doesn't change things in ways that could honestly make them better. There isn't ANY innovations to try and add more flavors. Many of us know that Asian cooking use fish and meat by products (think oyster sauce). Parekh seems to take a recipe, remove the offending ingredients, like maybe fish sauce, and calls it quits. This leaves many bland recipes. Nor does Parekh seem fully educated about vegan products, listing one recipes with worcestershire sauce, which contains anchovies. Yes there are vegan versions, but they aren't common.I have to say I am sorely disappointed with this cookbook. It was rushed, and I am unsure of who the audience is. Is it for people who live in Asia with easy access to the ingredients? Or is it for anyone, anywhere in the world? I can say there I found some inspiration in the recipes, but mostly because I wanted to make them taste better. All dishes seemed pretty bland and relied heavily on fats, which I am not particularly fond of. If you want to read my full review of the individual recipes please check out my blog post

Indispensable cookbook in my collection. This cookbook covers a wide variety of Asian cuisines, from the commonly found vegan fare (Japanese, Indian) to more unique finds (Burma, Malaysia). I'd also like to add that it has a comprehensive section for Korean cuisine, which I've had a harder time digging up among veg cookbooks. It will certainly fill in the gaps in your Asian vegan cooking.(Note: I've not had "authentic" versions of many of the cuisines listed, but the Japanese and Korean flavors are spot on, save the spice level, which I address below.)The other great thing about this cookbook is its design. It lays out recipes efficiently, so while there's a lot of content, it's still a slim paperback. This is super convenient if you move/travel a lot. (i.e. Me.) There are enough pictures in the middle, but not every dish has a picture.I feel the spice measurements are a tad scant. The only section you can get away with this is the Japanese section, but even then I'd probably add more spice. However, it's not difficult to alter the measurements to suit your taste, because Parekh's ratios are good and all the necessary spices are present. (I personally up the measurements for all the Korean dishes to get the right pepper/heat balance.) Highly recommended!

Hema Parekh really knows A LOT about Asian vegan cuisine. The sections on India, Japan, China and Thailand are more extensive than those on Vietnam, Burma, Indonesia, Malaysia and Korea but it is a fantastic selection nevertheless. Where else will you find Burmese vegan recipes (I love Burmese food personally).One of the recipes in the books has become one of my personal favourites, which I cook frequently and without consulting the book anymore: Eggplant in Tomato Gravy (although I often use peas instead of eggplant). That tomato gravy is just heavenly.

A disappointing collection of recipes. I should have known better than to buy it when I noticed that she tried to cover all the cuisines of south, southeast, and east Asia. The recipes have errors in them (timing, quantities) and some of the dishes are frankly unappealing. It was a good concept but overambitious and poorly executed.

Really great authentic all over Asian cookbook. Because of the authenticity though you can expect plenty of trips to ethnic or specialty stores to pick up ingredients. But well worth it. Lot of spice and flavor added in each dish.

Nice photos and nice variety of recipes. Covers India to Japan to Malaysia to Vietnam and more. Some ingredients are specialized and must be purchased at an Asian or Indian market, but otherwise not too complicated.

I have not had one recipe turn out bad from this book. What is key is that stocks, noodles, and rice preparation are all explained so that the food is both authentic and delicious!

Really good recipes and organization! I want to go home so I can cook from it.