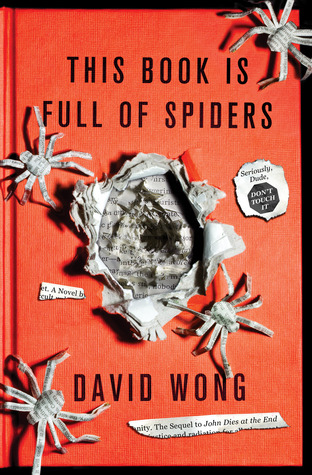 From the writer of the cult sensation John Dies at the End comes another terrifying and hilarious tale of almost Armageddon at the hands of two hopeless heroes.WARNING: You may have a huge, invisible spider living in your skull. THIS IS NOT A METAPHOR.You will dismiss this as ridiculous fearmongering. Dismissing things as ridiculous fearmongering is, in fact, the first symFrom the writer of the cult sensation John Dies at the End comes another terrifying and hilarious tale of almost Armageddon at the hands of two hopeless heroes.WARNING: You may have a huge, invisible spider living in your skull. THIS IS NOT A METAPHOR.You will dismiss this as ridiculous fearmongering. Dismissing things as ridiculous fearmongering is, in fact, the first symptom of parasitic spider infection-the creature secretes a chemical into the brain to stimulate skepticism, in order to prevent you from seeking a cure. That's just as well, since the "cure" involves learning what a chain saw tastes like.You can't feel the spider, because it controls your nerve endings. You can't see it, because it decides what you see. You won't even feel it when it breeds. And it will breed. So what happens when your family, friends, and neighbors get mind-controlling skull spiders? We're all about to find out.Just stay calm, and remember that telling you about the spider situation is not the same as having caused it. I'm just the messenger. Even if I did sort of cause it.Either way, I won't hold it against you if you're upset. I know that's just the spider talking....
| | | |
| --- | --- | --- |
| Title | : | This Book Is Full of Spiders |
| Author | : | |
| Rating | : | |
| ISBN | : | 9781781164556 |
| Format Type | : | Paperback |
| Number of Pages | : | 494 Pages |
| Status | : | Available For Download |
| Last checked | : | 21 Minutes ago! |
---
This Book Is Full of Spiders Reviews
This is one of the books in my first Nocturnal Reader's Box and I'm excited to read it!

This Book Is Full of Spiders: Seriously, Dude, Don't Touch ItWritten by: David WongNarrated by: Nick PodehlThis Book Is Full of Spiders: Seriously, Dude, Don't Touch It (John Dies at the End #2) by David Wong is soooo good! I got the audible because I watched the movie for book one and thought listening to the book would be close to 'watching' book two. If you haven't read book one, read it first or watch the movie first. I watched it on Netflix. It is important to know certain details in that book for book two. They must of changed the end of the story a bit but it doesn't matter for this book. The key things are in the movie. This book is so silly and fun. I laughed, giggled, and snorted my way through this. I didn't hurry my way through because I wanted it to last. These two books are a must read! So fun! A stress relief, a get away from reality, a total no-brainer. Give it a try! I will say, "You're Welcome" now. The narrator is spot on! He makes the book even funnier! Too perfect!

Pre-Read Review: WANT. NOW.Post-Read Review: I've read quite a few books this year - some good, some bad, but nothing that is as near to perfection as this one. Like most fans of "John Dies at the End," I've been waiting for years for Spiders to finally make its way into my hands. And like most, I spent that time wondering if it could possibly be as good as the original. Or… good at all. (Yes, that thought crossed my mind more than once. How could it not?) Now here I am, having finished Spiders last night and I am still blown away.Is it as funny as JDATE? No. But given the story, I don't think it needed it to be. In fact, I'm glad it wasn't. Unlike John and Dave, this book has grown up quite a bit. It's much heavier, much darker and much more mature. It lacks the insanity of the first, but instead it's more emotional and thought provoking. You would think I'd be sad that the tone is so vastly different from the first, but I'm not. At all. Instead of feeling like he's trying to re-capture what made JDATE great, "Wong" moves the characters forward, leaving the original insanity behind and showing us who they've become after saving the word the first time around. And because of that I felt more for the characters this time around. I was genuinely worried about what would happen to John, Dave and Amy. And I was rooting for them from page one. Yes, I felt the same way during JDATE, but this time I felt in my gut in a way I didn't during JDATE.This is one I know I'll be reading again and that I already consider a favorite. It's hysterical, moving, touching and truly heartbreaking. I'm hoping we'll hear more from Wong soon.

I loved the first book in the series, John Dies at the End, for all it's absurd lovecraftian slacker humor and over-the-top dick jokes and splashy gore and time travel and rastafarian dudes asking you to drink black goo that opens your mind to all the sick and twisted things that crawl around on the surface of the world but you never quite see them.It was a vision of perfection if you love funny horror. I kinda made a happy dance.So why didn't I read the second book right away? IDK! I don't have any excuse!So yeah, I'm reading this before I read Futuristic Violence and Fancy Suits, because, you know, David Wong, and here's a big spoiler:While there *are* spiders in this book, they're practically metaphorical. The novel is *really* a rip-roaring zombie-outbreak tale, again full of great humor and wry observations and a fully-slackerish mentality. It has a more streamlined plot than the previous novel, which is both a boon and slightly disappointing, because I loved how freaky the first one was, but the sense of a *really* *huge* *mess* makes this one rather shine.Maybe you'd have to enjoy streamlined bizarro fiction to really enjoy this. Maybe you'd just have to enjoy supremely fucked-up literature in general, but still, this is pretty damn accessible. Just as David wrote, Zombies are a part of the cultural zeitgeist. Half the books on the market nowadays are tapping into this, our greatest fear, and it's not just the rotting hand jutting from the grave we fear, but the fact that *we* are the zombies.You could call this book a wake up call. You *might* not need to drink any of that black goo, either! :)Total popcorn fiction. Fun as hell and funny as hell. :)

The paranoia of the narrator in David Wong's This Book is Full of Spiders drives this book to its spidery apocalyptic ending. The narrator is in turns funny, insightful and painfully annoying. I enjoyed this book (for a while) but found I wasn't looking forward to finishing it. It was an entertaining story, but I had become a little tired of spending more time in the company of the dysfunctional main characters.

Compared to John Does at the End, the structural problems here are minor. This actually reads like a novel rather than the world's worst 'fix-up.' But, sadly, this wasn't as zany as the first and it didn't have nearly the number of crazy gags, mysterious world building elements, and good humor per page as the first book in this series. It had a promising start but resigned itself to be one extended zombie joke for much of its page count. Thankfully, the last 25% was a return to form and was satisfying enough for me to consider picking up the next in the series at some point after its release--but not on day one.If you've read the first book and haven't picked this one up yet, think of this one as Dave and John getting dumped in the Resident Evil film universe. If that sounds great, pick it up. Or, if you like zombies and dick jokes, give it a go. You won't be disappointed.Full Disclosure: I'm not big on zombies.(view spoiler)[The monsters in this book aren't technically zombies. But they are kind of like zombies and that's kind of a running gag through much of the book--a running gag that wears thin very, very quickly. (hide spoiler)]

Going to keep this one short and sweet.Bottom line: I liked it, and look forward to David Wong's next book.Did I like it as much as JOHN DIES AT THE END?No.Why?Because even though the story itself was strong, the quality of the writing seemed rushed and the narrative scattered. The personalities of the main characters shifted quite a bit from what I remember in the original book, and the supporting characters in SPIDERS were paper-thin, usually summed up with a description of a celebrity they looked like. "Then the guy who looked like Jermain Jackson said,", etc.The beginning was strong and funny, and offered hope that this book would be as thoroughly pleasing as the original. That hope evaporated as the narrative began hopping from character to character faster than lice through a playground. As though that wasn't confusing enough, the author decided to have the narrative jump forward and backward in time as well, catching the reader up on what every main character has been doing in the meantime. It wasn't terribly confusing, just not particularly pleasing to read in that manner.I had a great time reading most of this book.After the story switched narrators for an extended period of time about 100 or so pages in, I got so bored I almost (unthinkable) lost interest in the book completely. I soldiered on, and thankfully the plot got interesting again and kept me reading and engaged up to the end.Overall, I think I would have enjoyed a shorter, more succinctly-told tale with a higher wit-to-words ratio, focusing on the main character -than the rambling, undisciplined book it ended up being. Also, pop-culture name-dropping references doesn't equal funny, it equals pandering fan-service to the target audience. Fine in moderation, but it wears thin when done too often, like product placement in a movie.Also, as other reviewers have mentioned, I thought the book seemed to be using the second half to work it's way up to making a STATEMENT, some sort of BIG IMPORTANT social commentary at the end; I'm glad to see that the author decided to let that aspect fall away rather softly and gracefully at the end. Not the right book for preaching, and for that I thank you.That being said, it's still one of the best stories I've read all year, full of imagination and delightful.I highly recommend reading it, warts and all.

David Wong is an incredible writer. He isn't an incredible writer because he writes amazingly well. He doesn't. He writes like a seventh grader typing up some stupid story with his friends in his school computer room during lunchtimes.The incredible part comes in when you take into account that John Dies at the End and now Spiders are two of the most enthralling, unique, funny, touching and interesting novels written in the past ten years. Period.There is no way that the writing style should work, but it does. There's no reason you should care about the characters, who are useless bumbling half-retards, but you do.Seriously. Stop this shit, it's hurting my brain.

Sorry, I don't want to be "that guy" but I just didn't "bought" it. First book was narrated flawlessly and purposefully with a lot of stuff going on and with no short of interesting things getting explained and a bunch of holy-shit-but-funny moments. In this book however, I find it very unpleasant to read and then BAM! - some David Wong Cracked related fact that seems so out of place in the context of the book that it just jolts me from enjoying the narrative itself. Also, it felt like a really detailed screenplay than a book at moments. I don't want to say I got bored but... yes, I got bored now and then. It's hard to top creativity of the first book but that seems too, fell short as well for me on this one. It felt "Aw, I've already seen/read/played that.", nothing new vibe, but it had it's shining moments though. Also, that Marconi mumbo-jumbo speech in quarantine was at the moments very confusing and unclear. And that would be ok if it didn't stretch for 50 pages, or at least it felt like 50 pages and made it confusing even if it actually wasn't. I also didn't like the "XX hours/days before XYZ" format. It did served purpose to, I guess, lead reader onto something and then XYZ just happens but not in the way reader thought it would go. And then that repeats a lot.That being said - I actually enjoyed this book overall. Wretched thing is that you just and must, have to compare it to the first book and in that light, This Book is Full of Spiders holds weak. But technically it was a good and welcomed change of pace comparing to the JDaTE. It has some grand ideas that just at the end fall flat and I dare to say - don't deliver as promised (or we at least thought we were actually promised something). And that is the biggest flaw here, too much hype, too much expectations. Also, it kinda felt that JDaTE didn't have any actual consequences even when the narrator tries to convince us otherwise.Yet, it's a pageturner.This book is good in its own right and I don't regret a dime paid for it. You shouldn't too. Especially if you liked the first book, then it's a must read. But if you're a novice here, I suggest you read John Dies at the End first, because you won't understand third of what's happening in this book. No matter what, I'm still looking forward to the next David Wong book. If he plans to write it that is. And if you do, David Wong, just leave the book thematics out from Cracked (at least until the book comes out).

Following up the extraordinary John Dies At The End must have been a daunting task. The first in what I'm calling David Wong's David Wong series (the author's name is a pseudonym and is also the main character's name, as the books are written - mostly - in the first person) was a remarkable achievement, blending wit, juvenile and irreverent humor, and a healthy dose of gory horror. The follow-up, with what is one of the greatest titles of any book to date, is the continued adventures of David and John, but it's a slightly more mature book in its telling. Does that make it any better or worse? Well, it's a little of both.First off, there's a reason I'm giving this book five stars. It's just plain old great reading. The sheer number of jokes has been reduced from the manic pace of John Dies At The End, but that comes with some better plot structure and a more focused narrative. And while the jokes aren't as rapid-fire as the first, the individual moments of This Book are still terrific.As a variaition on the zombie novel, this is pretty decent, though the focus is less on the monsters and more on the individual relationships of the characters, which is how a good book should be. David and Amy's continuing relationship is, surprisingly, the highlight of the book, as John ends up playing second fiddle compared to his amazing role in the first novel. John isn't played with quite the manic insanity of the first, either, which I suppose lends more credibility to the character and should end up lengthening his shelf life, though I can't help but miss his stunningly awful (and awesome) one-liners like, "Got your tickets to the con-CHAIR-to?" However, he is given a bit more humanity in this novel, especially in regards to his fear of the creatures and reluctance to help Amy. It's a trade-off, neither a bad nor good one.There's only one real problem with the novel, and that's in its two deus ex machinas. While one is most certainly a jab (and a delightfully hilarious one at that) at the convention, the other isn't. However, both are so particularly well written that I'm willing to overlook them. Like I've said before, I'd forgive David Wong anything short of murder, and even that, I might let slide. He's that talented of a writer.So then really, my only problem with This Book Is Full Of Spiders is that there isn't a third in the series already in my hands. When I finished the book, I launched immediately into what I'm calling post-writum depression, that feeling you get when you've read all of an author's books to date and don't have another one in your hands. This writer is fantastic, and I cannot tell you enough that you should go read his work immediately.

I received the advance edition in a Goodreads giveaway (yeah!!) having not read "John Dies at the End." I entered because who doesn't want free books? and it looked to be kinda funny. I'm not great at reviews. I'm not great at articulating what made a book....great. (see?) So I'll just say the following:- absolutely love the writing style. Love. I won't describe it with the "[Famous Humor Writer] meets [Famous Horror Writer]!" formula....this is, inelegantly stated, its own thing. Funny Parts Are Funny! Scary Parts Are Scary! And Funny! I laughed, I cried. No, literally. I did. Out loud.- I was über-cranky at work all day today because I'd slept maybe an hour or 2, having stayed up waaaaaay past my bedtime trying to get through the last few chapters. I don't remember when I did that last.- As soon as I finish this review I'm going to go seek out "John Dies at the End," cause I'm totes reading that next, even though i'm reading backwards. Ew. I said "totes." But seriously. Five stars, y'all.

First of all, look at that cover. On second thought, if you're afraid of spiders, cover your eyes and scroll on by. I really like it, and I don't normally take much notice of book covers. Pictures don't usually do much for me; I'd rather have 1000 words. But apparently I like pictures of books with holes that have book-page-spiders crawling out of them. Who knew?This book is the sequel to John Dies at the End. Each book tells a complete story that stands on its own, although there are some fun references to the first book that would go over somebody's head if they hadn't read it. This second book has the same crazy humor combined with goriness, crudeness, and silliness, but I did think it was toned down a little bit as compared to the first book. On the other hand, I've now read almost 900 pages of this author's writing, so I may have just built up an immunity. Or brain damage.I didn't think this plot was as unique and strange as the first one, but it still had its own unique flare and it was told well. In fact, I may have been more absorbed by this story simply because it wasn't quite so bizarre. It definitely wasn't devoid of craziness and fun, though. With this book I don't see much harm in a brief synopsis, as long as I leave out all the juicy details: The story is basically about the zombie apocalypse coming to a small town in the Midwestern U.S., but with the not-really-zombies caused by not-exactly-spiders. Normally I hear the word "zombie" and reflexively reply with the word "ugh", but this isn't one of those tedious types of zombie/monster stories. I get bored if a story primarily consists of characters running from scary monsters, finding a temporary refuge, getting found by scary monsters, and running from scary monsters again. This book has an actual story, and it never once felt tedious.The first book had been told primarily from the first-person perspective of the narrator. In this book, our main characters aren't together for large portions of the story so the reader gets to spend some time in the heads of the other main characters. I enjoyed that because I felt like I got to know those characters better, and I enjoyed not being confined to a single viewpoint and a single chain of events. On the other hand, I wished the characters were together more often because I think they're more fun that way.One semi-spoilerish comment: (view spoiler)[It seems pretty pointless to persist in calling the town "Undisclosed" to discourage tourists, considering the entire world has been watching news about it for days. The town is likely to be a household name for years. But then, the narrator does make references to potential readers 200 years from now, so maybe he's trying to prevent tourism in 200 years. :) (hide spoiler)]In summary, there were some things I liked better about this book as compared to the first book, and some things I liked less. On average, though, I think I enjoyed them about equally. I may have to check out some of the author's other work someday.

"How did we screw this all up so badly, John?"He shook his head. "We always find a way."This Review is Full of SpoilersWarning: Opinions are of a childless hardcore dog lover. For 394 pages this book was the crazed, hilarious, thought provoking, action packed tale I expected.Then that blackguard Wong killed off Molly. Molly was my favorite fictional animal after Rowl from The Aeronaut's Windless. I understand why they did it. I understand that in a way it was a compliment both to the character and the value of dogs in society.I understand how well it wrapped up the story.I don't care. I did not read a drunken meta spider crawling zombie apocalypse novel by David Wong in order to ugly cry.Ugly. Cry.So how do I rate 394 pages at 4.5 stars when it goes on to 404 and fuck you? I guess I'll take off one star and round down to three.This book was included in the August 2017 Infested/Infected Nocturnal Readers Box. My first subscription book box!

THE thing I love most about this book is that despite the absolute absurdity of everything that happens, the narration makes it feel real. Or at least real enough that it is completely hilarious. I enjoy that sometimes even our narrator, David Wong, is unable to describe what is happening and you get this passage that is basically the most unbelievable bullshit anyone could come up with... but I love it!The writing is really amazing. It manages to be casual without being overly simple. The relationships between the characters didn't feel forced in any way and I liked that they were flawed characters. As with the first book, the main group aren't your typical hero. They aren't fearless or anything; they are just always in the wrong place, trying to not die. The other amazing thing about the writing in this book is that there is a chapter written as the perspective of a dog (which had I known about it prior to reading, I would have expected to be as awful as it sounds) but it was so well done and actually contributed to the story in a really interesting way.I kind of wish that I had reread John Dies at the End before picking this up, just to recap, but I enjoyed it a lot nonetheless. The reason I am giving this four stars instead of the five I gave the first book is that the surrealism didn't surprise me as much and although this book is funny, it didn't have be cackling to myself in the same way the first one did. It's funny but not as funny ya know?I understand that this book is not for everyone, but people who enjoyed John Dies at the End will appreciate it. It has the same humour and the non-linear story-line is really fun. The story is entirely bizarre and there is a large portion of people who would find it too ridiculous to enjoy. There is action and suspense and jokes and friendship. I find it hilarious and enjoyable because the story pushes my imagination to the limits but has just enough realism to make you think maybe this could happen.

I finished reading John Dies just before I went to work on Thursday, found This Book is Full of Spiders and started reading it after work Thursday night/Friday morning. It's now Saturday afternoon. I almost literally could not put this book down. You read it and think 'oh my god there is no way they can get out of this mess this time' and so you have to keep reading because you're only 50 pages in and if they all die right then, what is the rest of the book about. Again, there are some great one-liners (and entire conversations with John) that are completely ridiculous and hysterical. You also get to see more of Amy and Molly which was pretty cool. There's also some zombie philosophy and psychology that made me stop and freak out for several minutes. My only warning is that if you have any sort of pet or younger siblings that have a habit of munching on toes (or any body parts), make sure they are no where near while you read this book. I think I jumped 5 feet when I felt little teeth & a wet nose on my feet while I was reading a particularly tense scene.

What ever I am reading on October 2 will be put aside for the day and a half it will take me to read this.A more mature (well, relatively), and therefore less original, book than his first. Still, a lot of fun. The book seemed always on the verge of making some profound social commentary or of presenting some meta observation on genre convention, but then just thought better of it. Anyway, it should be easier than JDatE must have been to adapt into a movie.

"How did we screw this all up so badly, John?" He shook his head. "We always find a way."John and Dave are fucking things up. Again. This time, they try to rescue the world from spiders that turn people into zombies. Or do they? You never really know in David Wong's stories. You think you do and then... BAM, this is what you get:John said, "Don't you get it? You're wasting your time, we're just a couple of inconsequential dipshits in this whole thing. The people behind this will take out all three of us. We're all pawns. Well, you're a pawn, we're a couple of Gummi bears your retarded little brother stuck on the chessboard."I just love how Wong sometimes sneakily breaks down the fourth wall. You'll see what I mean by this when you read the last two chapters of this book. Because that's what you should do. Read the book. Now.Why, you ask? Because it had everything that was great about the first book (John Dies at the End) - and more. While the first one had a lot going on and dealt with too many ideas at once (though Wong still managed to totally pull it off), Spiders is based on just one single idea that's executed beautifully with just the right amount of comedy and horror/tragedy. I was laughing out loud constantly, and I was even more terrified than with the last book. In between chapters, I caught myself rolling my eyes at the behaviour of certain characters or at absurd plot points. And let me be frank: I seldom do such things while reading. I usually blast through a book with blank emotions and think about it afterwards. Not possible with Spiders. I was feeling the book from page one until the very end. And that has to mean something, right?I can't stress this enough: This Book is Full of Awesome: Seriously, Dude, Touch It!

One of the blurbs for this book mentions that the author manages to keep up the horror while also being funny, which is both true and an incredibly good thing, because when you're reading a book that's designed to keep your shoulders tight from the suspense--and this book is designed to keep you in suspense--you really need to be able to laugh once in a while, or a lot, or you're probably going to strain something.The jerkiness of the storyline got a little frustrating around midway through--the skips back in time to go to other characters' POVs, &c.--and after a while all the near-misses between the characters who were trying to find each other started to get exhausting. But I forgave all that for the humor, because this book is really, really funny. You can get away with a lot when you're hilarious.There's also a lot of insightful bits scattered throughout as well: conversations on humanity, civility, villainy; gems within the brocade of humor. This is a very enjoyable book.And even if you're an arachnophobe, it probably won't scare you too much.

I wish I could warp back to the time when I first read John Dies at the End. It was two or three in the morning, I had just discovered that I could browse the internet via my Wii, and I somehow stumbled upon it. The hours that followed (and several months later, after he updated it with the ending) were some of my favorite times reading a book. The raw, unfiltered originality is something that still sticks with me today. I don't think it was a literary work of art, nor do I think the story was necessarily all connected neatly... but it was hilarious, terrifying, and inspiring. It's still my favorite story, and I doubt I will ever come across anything like it ever again. It would be foolish to expect something close to that experience again in a sequel, so I tried not to go into it with any pre-conceived notions. I feel like a couple of things happened in the sequel: • His writing improved. A lot. I really enjoyed the alternating viewpoints, and he did well with them to create and maintain suspense. There was a surprising emotional depth to some of the characters this time around. I was not expecting that, but he pulled it off nicely. It was at least as funny, if not more so than the first one. You'll also never be able to guess what the fuck is going on or where it's headed. • This felt more like a traditional book. That's good for several reasons, but I still felt a bit of a sad nostalgia, (sort of like when you smell a perfume that reminds you of the first girl you fell in love with) for the batshit insane, wildly creative, dimension sprawling adventure of JDATE.So, ultimately, it was never going to live up to the first, which I have apparently already placed up on some unreachable pedestal. Time will tell if I feel the need to reread like I do for the first, but it was absolutely hilarious, creepy, and totally enjoyable.

An outstanding book! The plot is built around a pending apocalypse, and it has everything--evil, horror, wit, irony, humor, monsters, friendship and love. The jacket describes it as a cross between Douglas Adams and Stephen King and I would say that's dead on. I liked this as much or more than any King book I've read. Really original characters. One of the best books I've read this year!

This Book is Full of Spiders is an interesting book for many reasons. The poignant and deceptively hilarious narrative is full of provoking ideas and is not at all scared of showing them to you, often alongside descriptions of graphic violence and male nudity. For that reason alone it would be a good book, but there is always more to it.There's a lot of hidden meat to the story, subtle nods and references that can only be perceived if the reader is paying close attention and has absorbed the book's universe and understands the rules and metaphysics that have been crafted with both of Wong's books. Not knowing these things doesn't diminish the book, but knowing them lets the reader get more out of it.Also, in a move of incredible narrative humility, Wong has managed to include something for all of his fans, including (or especially for) the few that have followed him since the very beginning. Like the ending of John Dies at the End, there are subtle references to articles and stories he wrote in the early days of comedy writing. The astute among you may notice them, cause I'm certainly not going to tell anyone.

I wanted SO much to like this book, in fact it is a long time since I have shown such doggedness in sticking with a book, even when, in this case, I truly DISliked it. Great pedgigree, brilliant reviews, gorgeous cover and cracking opening meant that there was SO much in favour of this book being a hit with me. But it wasn't, it just wasn't. The chatty nature of the narrative grated after a while and I found it impossible to stick with the plot developments and was ultimately disorientated by what on earth was going on. In my opinion, it was just trying to be TOO cool and clever, and the comparison to 'Hitch Hikers Guide to the Galaxy' (as on the cover) was truly ridiculous as it is ABSOLUTELY nowhere near being in the same league as that classic and any comparison is a bit of an insult to Douglas Adams' genius.I don't like giving books a '1' rating but any book that has made me expend so much energy just to keep going with it, and then to ultimately give up on it can be worth no more stars :-(

What the fuck did I just read? I don't even know except it was pure entertainment and awesome.

David Wong yet again presents us with a perfect blend of horror and comedy. David, John and Amy are back again, this time fending off a band of killer demon spiders. If spiders scare you, don't read it because this book is full of them. Surprise, I know. But seriously, it's gonna make your skin crawl because they're all over the place. Perfect for zombie fans everywhere as well as those who appreciate the quirky books.

3.5 StarsThis Book is Full of Spiders is both a bit of a disappointment and move towards the ordinary. After the mind blowing John Dies at the End, I had far too high of expectations for the follow up novel. First, I have to admit that this is still a blast of a read and a fast page turner. It is also still stranger and more unique than most fiction these days. It is a piece of bizzaro. Unfortunately, I have read John Dies at the End multiple times and seen the movie, elevating it to unrealistic levels for David Wong to equal.There is a lot to like about this book. It is more accessible to a wider audience. It really does not require you to have read the first book to both enjoy and to understand this one. This is a much straighter lined story with a clearer plot than book one. The main cast is all back and we do get a little more insight into their past and their minds. The writing is awesome:"I stood there outside the shower stall, naked, squinting in dull confusion. Now, I'm not the smartest guy under normal circumstances but my 6 A.M. brain has an IQ of about 65. I vaguely thought it was some kind of plumbing problem. I stared stupidly at the interrupted umbrella-shaped spray of water, resisting the impulse to reach out and touch the space the water couldn't seem to pass through. Fear was slowly bubbling up into my brain. Hairs stood up on my back. I glanced down, blinking, as if I would find a note explaining all of this taped to my pubic hair. I didn't."Sometimes the writing can be deep and meaningful:""Yeah, your wife thought it was a monster. Turned out to just be bees. So my little problem, probably just bees. It's all bees. Nothing to worry about.""I'm afraid you misunderstood. That was the day that a very powerful, very dangerous monster turned out to be real. Just ask the bees.""Wong fills his pages with humor, wit, and plenty of potty jokes…"The X-shaped cluster of turkeys rose as one body, as tall as a man. Two rows of turkeys forming legs, two forming arms. The turkey Voltron took tentative, lumbering steps toward John. He couldn't help noticing that after a few steps, the two turkeys it was using as feet had been pulverized into a pink, feathery mess. John stood frozen for several seconds while he tried to decide if any of this was in fact happening. He decided that running was the best option either way.""John's old Caddie had a huge engine that would qualify as a human rights violation if built today. It roared down the road, chugging gas and farting a blue cloud of dinosaur souls."I really was disappointed that Wong chose to make this book so accessible. He nearly makes the first book pointless. I cannot believe that with all that John and Dave went through in book one that they did not speak about it more in this one. Sure they do sometimes, but not to the level that I feel that it warranted. I enjoyed this book and had fun with the further adventures but I was looking for more. I am a fan of David Wong and can highly recommend him for those that like the bizzaro…

This Book Is Full of Spiders: Seriously, Dude, Don't Touch It has an amazing title. It is, I should point out, wholly accurate: this book is really fucking full of spiders. Big spiders, little spiders, REALLY big spiders, spiders with human faces, and so on. Being the sequel to one of my favorite books, John Dies at the End, it had a lot of promise. But here's how it goes:Take everything you hated about John Dies at the End: it's gone.Take everything you loved about John Dies at the End: oops, it's gone too.I am only partly exaggerating. In some ways, This Book is a clear improvement. It's 80% less full of problematic language, Amy and Molly have much-expanded roles, everyone gets more character development. The other "improvement" is actually not: this book is distressingly coherent. Part of the charm of JDatE was its anarchic glee in not making any goddamn sense, its freewheeling relationship with time, and the overflowing, burbling imagination and creativity on display. In contrast, This Book is incredibly structured, the prose is less surprising, and it's lost that pervasive sense of WHAT THE FUCK that made JDatE so damn fun to read.Why is this book full of spiders? Because parasitic spiders are invading Undisclosed, and all hell breaks loose. Unfortunately, although Wong's talent for creating and describing fucked-up monsters remains strong, he quickly frames the story as a zombie narrative, and the rest of the story falls in line. Whereas JDatE was absolutely like nothing I'd ever read before, This Book Is Full of Spiders is basically another zombie book, with a few Wongian twists. As a result, I rarely felt a strong urge to keep reading because there seemed to be very little dramatic tension in the moment; it's telling that Wong uses a countdown gimmick to create suspense because the writing itself wasn't doing it. I enjoyed the multiple POVs and the non-linear narrative, but the writing style was so utterly different from JDatE that I had a very hard time getting into the book.This is not to say the book is bad. There is some great stuff, especially at the end, and Wong can still reach into your nightmares and put it on the page when he wants to. Were I not comparing the book to JDatE, I would probably really like it. It's fun and it's weird and it's got a good sense of humor. But as a sequel to John Dies at the End, I found it disappointing.

Stop. I don't care what you are doing, stop it. Seriously, stop it right now.Grab your keys, grab your bike, your favorite pair of shoes, and go buy this book.Well... I suppose you could flip on your WiFi eBook enabled device, slap down twenty invisible credit moneys and start reading even faster.To say this book was good is a grossly inadequate yet appropriate understatement. Understatements, like hyperboles, help create a sense of awe and appreciation for that which is difficult to describe in typical adjectives. Were I John, lots of F***s would be used, something would get ramped, and in general the meaning would be gained through accidental male nudity and excess triple-barrel shotgun based violence.Luckily I am not John. Read the book, you will understand. In the meantime, you will just have to take my word for it. Point is, I possess the necessary literary faculties to describe this book, I simply chose not to use them... No thats wrong.Rather, the impressive looking, ominous cloud of descriptive vocabulary and qualifying dialectic understanding in my brain simply said: "F*** that," to which the logic portion of my brain responded:"Amen."It would seem the drooling heap of gray matter largely responsible for the composition of my previously christened "Brain" has yet to recover from this book.That, in my experienced yet entirely unqualified opinion, is the greatest determining factor of a good book.Go read it. I polished of this baby in two sittings. I paused for sleep, which came very slowly and with great trepidation that at some point in my sleep, a great big flaccid spoiler would marklar all over the damn place. Morale of the story, I didn't sleep. I hid in my bed with the lights on.No, I see what you're thinking.This is not an exaggeration. I did not sleep. I cried a little, maybe pooped myself when the curtains fluttered. That was before I put my dresser over the window.Go. Right now. Go read it.Oh, and bring a flashlight.

From the reviews that I have read from this book, I knew I was going to either love it or hate it. I am so relieved that I absolutely loved it! As in, I am going to re-read it many many times and forever think of it as a favorite. I read John Dies at the End about three years ago, and I had never read anything that simultaneously had me laughing so hard I was crying and also terrified to turn the lights out. SO. GOOD. Also, what an original story.Now, This Book is Full of spiders will not have that raw originality that JDATE, BUT it will not dissapoint. It is definately a more mature story line. And I found it was way darker then JDATE, and I found it touched on some prominent moral issues in a tender, funny, and serious way. What a combo!No spoilers here, but I would be lying to you if I said this book didn't make be cry (not from laughter this time). That doesn't happen often. When a book makes me put it down so I can dry my eyes and take a few deep breaths, well that's a damn good book in my opinion.Hope everyone enjoys it as much as I did. And I hope that David Wong will release many more stories featuring the characters that I have grown attached to in the near future. Enjoy!

This was great.....but....... there was something missing. I can't quite put my finger on it, but somewhere between John Dies at the End and here, something got lost. The first book had an element of surrealism that completely took me by surprise and had me laughing out loud. This book just didn't have it. I feel like this is what so often happens when a lesser known internet comedy writer suddenly goes to "published author with a movie deal" (because this happens all the time of course). All the indefinable fun stuff gets polished away. I'm not being fair here, because it really is a good book. It's not a million miles away from the quality of the first one, hence my four star rating. I'm just a little disappointed I couldn't give it five.

If you are intrigued by the sound of the title of this book, you are in a treat for a load of horror science fiction, adventure, creepy scares, monsters, shadowy government agents, weird otherworldly weapons, slapstick irreverent humor, a good dog and an awesome nerdy woman. Fans of movies Hot Fuzz, Shaun of The Dead, Scott Pilgrim vs. the World, and This is The End will love this Audiobook / book. I did.The writing is good, the plot is coherent, the twist are unexpected but not messy, and characters are lovable. This is my first book by David Wong and I look forward to reading more of his works ... especially in Audiobook format. Another superb performance by Nick Podehl (narrator).Seriously, dude, don't miss this!

Reading this book is like sitting in a chair opposite David Wong. Only you're duct taped to the chair, because he's a Cracked writer, and probably has seen some serious shit."You remember my previous book?" He asks, like a Bond villain making idle chatter."What? John Dies at the End? Yeah. That was funny and emotional. Really genuine. I liked the movie, too.""Good." He smokes some kind of pretentious cigar. "You don't need to have read that, but you'll pick up on some other stuff if you did. Good. Now, I'm going to do my second book to you.""Do?""Do. Do the things it'll do. Firstly, I'll make you laugh. I'll tell some dick jokes, because I"m a Cracked writer. Interspersed within will be some pithy shit, but the jokes will keep coming."He does. You laugh, and occasionally nod your head solemnly. "Now what?""Now," he says, smiling to himself like he's joke the world's funniest joke inside his head that guarantees an orgasm at the end, "I'm going to punch you. Repeatedly. In the stomach.""Why?""It's all about emotions, man. You can about the characters, right? You heard their pithy dick jokes. You'd looked at their lives. Now I'm going to do things to them and those around them that will punch you in the stomach.""Jesus," you say, or invoke some personally-appropriate cosmic principal or secular alternate thereof. Are you really gonna--"He screams in your ear, and you nearly piss yourself."Dammit," you wheeze. "Dammit, that was scary. I--"Then he punches you in the stomach, followed by a dirty joke, an observation on life, and another punch.You're panting, wondering how many James Bond goes through the same shit in his movies without shitting himself. "Okay. What next."David tells you something so awesome that you want to pump your fist in the air."Okay." You lick your lips. "What happens now?""Now," he says, taking a self-indulgent draw on the cigar just for his own amusement, "I'm going to keep doing all of that to you over and over again with increasing intensity."You sit there for what seems like eternity, staring at each other."Will I like it when you're done?"He shrugs. "Who fucking knows?"Then he does it to you. All of it. Over and over again."Okay," you finally whisper. "When is book three coming out?"

I`ve done it!Ода человеческому символизму и жестокости. Несмотря на оболочку, в которой подан роман (в стиле начавшегося зомби-апокалипсиса), в книге очень много социальных моментов. Насколько сильно ты способен сопереживать другу, попавшему ногой в капкан? А своему сотруднику, которого знаешь полгода? А неизвестному мужчине в неизвестном городе, случайно увидев его по телевизору? А человеку другой национальности, живущему в Африке? Чем дальше от нас, тем стремительнее падает градус гуманности и сочувствия. А если, попав в капкан, африканец при этом станет жрать всех подряд других африканцев, вызывая панику, то принять жестокое, казалось бы, решение, уничтожить сразу весь город, в котором жил этот человек, становится не таким уж жестоким. Гуманным даже, по отношению к другим людям. По сравнению с первой часть, книга стала заметно мрачнее, и менее раздолбайской. Пошло ли это ей на ползу? Однозначно сказать сложно, потому что хорошо, что продолжение не выглядит странной и нелепой пародией на первую, такую яркую, книгу. И плохо, потому что моментов, когда можно сделать "фе", осталось столько же, а посмеяться можно чуть меньше. Впрочем, все искупает одна-единственная шутка про пенис. Серьезно, ради нее одной стоит прочесть всю книгу.Персонажи Джона и Дейва выросли, пережили одно спасение мира, и с опытом ввязались во второе (ладно, пусть и не по своей воле ввязались). Их характеры, а также характеры второстепенных, казалось бы, героев, настолько реалистичны, что порой хочется потянуться и пожать одному из них руку.Эта книга однозначно стоит прочтения. И перепрочтения. И потом прочтения еще раз. И все было бы намного проще, если бы пауки поступали так: http://vk.com/doc15588127_419755698

After finishing and loving JDatE, I ran immediately to TBiFoS. Unfortunately, compared to JDatE, this book feels contrived and significantly weaker. The best way I can describe it is to say that this book felt like it was written for the Internet. It is jam packed with cult references and memes that feel totally out of place and only seem to be added to reference things that "nerd" culture would understand. It feels exploitative and uncomfortable. And speaking of things that are exploitative and uncomfortable, the return of Amy in this book nicely frames everything that is wrong with this sequel. She is the center piece for almost every cult reference in addition to her 'stubborn but frail' character set and constant pandering to makes me want to vomit in the face of any misogynist that could possible warm up to her personality. At the end of the day, this book is completely unremarkable except for the fact that it is the sequel to John Dies at the End.

This book is also full of zombies (sort of) if that's a problem for you.If you hated John Dies at the End you'll hate this too.If you thought John Dies at the End was fun but uneven and terribly bloated the same goes.I wish Wong would make more if his philosophical musings and less of endless stretches of vague action packedness wherein secretly nothing happens. There's are some interesting points about what zombies represent to humans, our desire for justified kills, our hatred of our neighbours, our dark suspicion that we are already walking dead but there's also a lot of running around shooting things which is quite tedious.

http://www.themaineedge.com/buzz/when..."TBIFOS" is an unabashed horror novel, packed with visceral imagery, dark undertones and a wealth of scares. The world that Wong has created (and inhabits by proxy with his self-named protagonist) is undeniably frightening. The author's clear understanding of the genre alone would make this book worthy of a read by any horror fan. However, that's not what makes this book truly special. There's one simple factor that allows this novel to transcend simple genre greatness and become something much more.Simply put, this book is hilarious.Making a reader laugh out loud is difficult to do. Doing it immediately before (or immediately after) scaring the s—t out of them increases that difficulty exponentially. Yet page after page, Wong manages to liberally mix frightening with funny and – against all odds – it works. Unsettling ideas and images are interspersed with pop culture references and built around the interactions and friendship between two guys who are woefully unqualified for the job of saving the world.

I can remember watching the movie 'Phantasm' when I was about 8 or so. When we were at my dad's house, he would rent some seriously awesome shit and we just ate it up. Same with my Aunt Helen. She loved horror movies and we watched crazy things when we were with them when we were way too young for them (I mean, I don't know if you know the movie 'Lair of the White Worm', but I saw that at a very tender age). So I fell in love with horror movies and it was something my brothers and I would share with each other because while my mom had us watching Family Matters on Friday nights, Saturday's we'd be at Dad's and watching 'A Nightmare on Elm Street'. But that movie 'Phantasm', man. It did something to me. Like, I love 'Elm Street', wholeheartedly. But whereas I can watch it over and over again (even though it still frightens me as an adult. I mean, seriously, I'm not afraid of any man in real life, you can fight a burglar, you can fight a serial killer, whatever. But this dude controls your dreams, controls your mind. Ah, nevermiind, you don't get it) I just can't watch 'Phantasm' all the time at the drop of a hat. There are some scenes in there that I find seriously grotesque and it makes me uncomfortable. But that movie is one of the greatest horror movies ever made. I have an action figure of the Tall Man here, tucked away in a room we don't use much. So don't get me wrong, I love it. But it freaks me the [email protected]#k out.So, anyway, Don Coscarelli directed that movie and then I saw he was directing a movie called 'John Dies at the End' and I thought "holy shit, that's a brilliant title". Still waiting to see the damn thing because it doesn't open here in Chicago until February 8 and only at ONE theatre for TWO nights only. So my brothers and I are going to see it and we're pretty pumped. Only I've read the book it was based on, though. Which I loved. LOVED. And I thought while we were waiting to see it, I'd read the sequel. Which I did not love. At all.Whereas 'John' told a story and had a shitload of fun with it, this book was a straight-forward, formulaic story that had all of the fun and hilarity drained out of it. It wasn't funny, it wasn't zany and it wasn't irreverent. It was just a run-of-the-mill horror story. Even the characters felt flat and lifeless. I mean, it seemed like Wong was just eager to get this story told instead of playing around and having a blast like the previous installment. It really bothered me. I loved the characters, the personality, from the first book, with everyhting bigger than life and also very real. I think it had quite a bit to do with the split narrative. The story is told from three different perspectives. Which reminded me of these silly handi-cam horror movies like Paranormal Activity, where there are multiple angles and it switches back and forth between. It was done poorly in this book. It didn't make much sense. It was like watching a movie with the worst possible editing. Always cut in the wrong places. Having aired my grievances, I'll say, that although this isn't 'John Dies', it is still a good book. A solid horror story with a big, bold premise and lots of imagination. Just don't expect it to live up to 'John'. I think Wong blew his load on that one.Grade: C

I discovered David Wong's (aka Cracked.com's Jason Pargin) first novel, John Dies at the End while it was still available for free via the author's website. It was soon picked up by small horror publisher Permuted Press for publication in paperback which I immediately scooped up for the library. Two years later John Dies at the End was picked up by St. Martin's for publication in hardcover (which the library also now owns). In the midst of all this horror luminary Don Coscarelli (writer/director of Phantasm, The Beastmaster, and Bubba Ho-Tep) adapted and directed John Dies at the End for the big screen. While the film has yet to hit theaters yet (it was on the festival circuit this past summer but looks to debut in January 2013) Wong's first novel was something a sleeper hit (if mostly among horror fans) and it should come as no small surprise that Wong has penned a sequel novel: This Book if Full of Spiders, Seriously Dude Don't Touch It.Much like Wong's first novel This Book is Full of Spiders is full of…well spiders but also of the author's trademark brand of irreverent humor and over-the-top bizarre nightmare imagery. At one point in the novel John (it isn't really a spoiler that he survived the first novel, is it?) is assaulted by a giant spider, again not a big surprise, but said spider is composed entirely out of turkeys. Of course, like in John Dies at the End, much of novel is narrated by the fictional David Wong (who is also a character in the book). Wong, is perhaps only a tiny bit more reliable than his friend John in terms of what he says and does but that isn't saying much.The humor in This Book is Full of Spiders, Seriously Dude Don't Touch It definitely falls into the less sophisticated category of college-level humor and readers should understand that this is a book that looks to mimic the gross-out over-the-top cult horror typified by the low-budget films of of the 70s and 80s. This is by and large a book designed for folks who love cult horror movies and as such it succeeds on every level. If you don't have a soft spot in your heart for the films of Sam Raimi, if you've never actively wondered who would win a fight between Freddy and Jason, if you don't cringe a little at the sight of puzzle boxes, or if you actually liked the Will Smith adaptation of I Am Legend then this probably isn't the book for you. Everyone else? Enjoy!

I'm not going to say much about this. Plenty of others will. All I'll say is that I find it both astonishing and irritating how good David Wong is. It delights and frustrates me that he is writing EXACTLY the kind of addictive, epic, horrifying, hilarious and utterly bizarre novels that I've always wanted to write (and will, when I'm good and ready!). All I can say to myself by was of commiseration is "Well... my endings will be better, without the sentimentality."NB: If you've never read 'John Dies at the End' you should probably read it, but if for some strange reason you'd rather jump straight in with 'Spiders' you can. It doesn't make much difference. Same goes if you've only seen the movie.

Wow... read this without reading John Dies at the End of this Book, and I think it still all worked well, but now I have to read that one! Really enjoying the David Wong universe!

A lot more of the same to the previous book (John Dies at the End). Humor and gore and vulgarity and occasional horror explode off of every page. In fact, you could easily argue that they explode too much or too often. This book isn't quite as funny or quite as consistently scary or quite as intelligently plotted as its predecessor (some of that may come from me reading it as opposed to listening to the audiobook), but it's darn close, and considering how much fun I had with the first one, close is good enough for me.

Here's a few quotes:"MY LAST AIR HOLY SHIT I HAVE TASTED THE LAST AIR OF MY LIFE THE AIR THAT IS IN MY LUNGS IS THE LAST AIR I WILL EVER GET THIS IS BULLSHIT MAN""It was December 22nd, or Christmas Eve Eve Eve as John so irritatingly called it."Here's another few:"Fear is the most dangerous contagious disease.""No, war is never about killing the enemy. War is about remaking the world to suit the whims of some powerful group over the whims of some other powerful group. The dead are just the sparks that fly from the metal as they grind it down."With the same style as John Dies at the End, this book sways from hilarious remarks to profound comments on the nature of humanity to horrifying descriptions to dick jokes with astonishing speed. And I enjoyed that blend far too much. This is a book that's going to stay in my 're-read' shelf indefinitely because I feel like there's so much I just overlooked the first time I read it. David Wong is now one of my storywriting role-models because if you can both make me laugh and question the universe with one paragraph, then you have earned my respect.

Dunno if you guys have seen this yet, but there's a trailer up on youtube. Check it out, it's pretty sweet.

I can´t remember I enjoyed any other book that much!It made me laugh like no other before, I just like David´s kind of humor!The chapter´s names kinda spoil what´s gonna happen next. But thatmakes it just even more thrilling the way it is written.I comparison to "Jon dies at the end" where you only have David´s view ofevents this one is different. You get views of Amy and John too. ANDeven one chapter of Molly´s (the dog) view. I couldn´t help myself giggle through that whole Molly chapter.The twists are awesome too, like in Jdate. But don´t be scared by the title! Of course there were some spider scenes that gaveme goosebumps, but they are pretty rare. To fully enjoy the book I would highly recommend to read Jdate before. Just to getto know the characters. Plus some extra infos about the story. But you don´t have to.All in all, my new favorite book!

First off, I did not enjoy this book nearly as much as I did the first. In my opinion, John Dies at the End was full of wit, humor, and scary, intense bits, even if it was a bit irreverent. I enjoyed every moment of listening to the audiobook of JDatE, and got properly creeped out by it.This book, however, did not have that impact on me. I found the overkill of foul language to be a serious turn off. Now JDatE had a high amount of foul language, but TBiFoS was just a curse every third word, and I thought it was unnecessary, really. It did not enhance the story in any way to put it in there.Plus, Wong completely changed characters in this book from the previous one. John was always so laid back and stoic in JDatE, that's what made his character so awesome. He just met every screwed up, freaky or gross moment with an almost stoner's attitude. Just....dude... However, in TBiFoS, John is just like Dave, and that was upsetting. John's laid back attitude in JDatE was such a great contrast to Dave's almost constant state of freaking out, so they played off each other so well. This book, they were basically the same person.Also, I am very rarely a fan of when an author writes one book with a single POV and then the next with multiple POV's. Though I appreciated the ability to see how things were going with the other characters, you lose some of the magic and mysticism when you give every main character a voice. This was especially true with John's POV. As I stated earlier, part of John's charm in the first book was that he just kind of made things happen and never worried too much about consequences or the next step. However, when we were seeing things from John's POV, he was just as freaked out about everything as Dave was, so he was no longer special.I will say that the second half of the book, (view spoiler)[the part after Dave and John got separated and Amy and John were trying to get back into the quarantined area (hide spoiler)] I found more enjoyable. There were some very well written suspenseful, creepy, and downright scary bits. So the second half of the book brought my rating up a whole star. (I had planned on giving the book only 2 stars while I was listening to the first half.) But, still, I firmly believe that the first book was definitely the better of this duo.